Sunday, December 12, 2010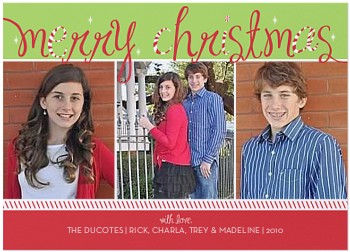 Peppermint Bliss Christmas Card

Friday, December 10, 2010
We went to Texas Tuesday and did our routine doctor visit w/ Dr. W. After his evaluation, questions, etc. Dr. W sat down and said, "well Madeline, I guess this is going to be the last time for me to ever see you". Madeline looked at him so strangely and said, "why?". Dr. W said, "well, there's good doctors where you live and you don't need me anymore because you are in COMPLETE REMISSION!!!". Rick and I immediately began to cry...with joy.
He then asked Madeline if she had any questions. She said no, but then quickly said she did have one..."will I ever get this disease again?". He sat there for a while to appropriately craft his words and then told her he did not want her to worry about that. She needs to go on with her life not expecting to get sick w/ JDM again. Plus, the kids who reacted well to the medication like she did usually never get JDM again. This was music to her and our ears.
We heard exactly what we've been waiting for for almost three years now - those beautiful words Madeline is in REMISSION. Funny how a little sadness came to us to think we'll never see Dr. W and his nurse again (or hopefully not in a medical setting). We gave our hugs and took some pictures to remember our friends who helped heal our baby. Here's Dr. W and Madeline. I think you can see he actually broke a little smile for the camera too.
Thank you to all of you for your kind words, prayers, encouragment, and patience with us during this journey. We are so happy this chapter of our life is complete and look forward to Madeline doing great things with her life. We are so lucky God chose Rick and I to be the parents of this beautiful little girl. She has taught us so much through this process and because of it we do not take for granted each day, hour, or second we have with our loved ones.
There are blessing with an illness, believe it or not. Of course, I wish this illness would had been mine and not my eight year old daughter's. But, it wasn't. This journey has taught me I AM NOT IN CONTROL! It's also put life into perspective for me. It's reminded me to not worry about the little stuff so much. Also, it's reminded me to suck up every morsal of memories I can and appreciate those special times for they go too fast.
Like a good friend of mine who is batteling cancer told me - "Enjoy the little things, for now you'll realize they really are the big things".
I love you Madeline. You make me proud every day. From here on, I only wish you health and happiness and for ALL of your dreams to come true. And I and your daddy will always be right there cheering you on!
Monday, December 6, 2010
We are heading to Texas in the morning for Madeline's check-up. We truly anticipate the Big R announcement - Complete REMISSION!!! Just so happens, yesterday at the end of mass Father mentioned we'd do a congregation Anointing of the Sick. Weird how things happen like that. What perfect timing!

Madeline is excited about her appointment as well. I think she (as well as we) are ready to close this chapter and move on to happier, healthier days.
Friday, December 3, 2010
Madeline's article was picked up by the AP and it ran in our local paper as well as as far as Connecticut. Wow! I wanted to post the link to keep it in our blog history.
http://www.thetowntalk.com/article/20101129/NEWS01/11290323/Pineville-girl-achieves-dream-to-dance-with-LSU-Golden-Girls
It's amazing how this article has affected so many. We've had such kind note from people all around the south. Plus, so many of our friends had no idea Madeline was even sick. I found that most interesting for we didn't keep it mum initially, I guess there's just no class on how to discuss your child's illness when you really don't want to talk about it.
Saturday, November 27, 2010
Madeline is much better. She should be good to go back to school on Monday. Hard to believe our Thanksgiving break has come and gone so quickly. With Madeline being sick and my dad in the hospital, it hasn't been the best holiday. But, we did put up the Christmas decorations and it has lifted our spirits. Plus, it was Rick's birthday (the big 39) and we had fun celebrating with him.

We got some cool news yesterday. Our local paper plans to run Madeline's story as the cover story on Monday. Hope she doesn't begin to get the big head. Ha! Nah!
Monday, November 22, 2010
Madeline's dad and I went to the LSU game this weekend. Madeline decided to stay at home with her grandparents to visit with her cousin who was spending the night too. When we got home, Madeline had spots all over her. She had two or three on her face Thursday, but I didn't think anything of them. Well, now, they are everywhere. She was vaccinated for chicken pox as a baby, but they sure do look a lot like them. We are going to the doctor this afternoon. Will update after. Here is what they look like.
Saturday, November 20, 2010
http://www.2theadvocate.com/features/109114629.html


Check out Madeline's article which was in The Advocate yesterday. The actual newspaper had six pictures of her, but there is one picture on the online version. Thanks to the writer Robin Miller for doing a great job. Enjoy!
Tuesday, November 16, 2010
Madeline had a small project where she had to answer a question in her journal for English. I'm always surprised when she writes about her disease. I thought I'd share her journal entry. The question she had to answer was - What is the best birthday gift you could ever receive?

The best birthday gift I could ever receive is for my disease to go away. It would be the best birthday present because I've had my disease for over three years and I need a break from it. That would be the best birthday present in the world and no one could argue any differently. I can't wait until my birthday. I bet I will be in remission.

Love, love, love that girl!
Madeline is still on a high from her LSU Golden Girl experience. In fact, she's getting a little media attention on the whole experience. A Baton Rouge television station did a story, as well as The Advocate, Baton Rouge newspaper. Once they come out, I'll post on the blog. Then, locally, our NBC affiliate and local newspaper are doing stories. Cool!

I'm glad the Golden Girls will get the recognition they deserve for doing such a great thing for Madeline. But, I also love the fact that this disease will get some much needed exposure too. Who knows, maybe someone will see the article and realize the symptoms are the same their child is experiencing. You never know!
Wednesday, November 10, 2010
Madeline had her LSU Golden Girl day experience last weekend. It was an incredible day and we met some fantastic, kind people. Besides the wonderful Golden Girls making her day special, LSU beat Alabama!!! Here are the pictures. I think they tell the story of the day better than anything.

Friday, November 5, 2010
Madeline is on cloud nine and can't wait for her Golden Day tomorrow with the LSU Golden Girls. We packed last night and she picked out her outfit. The funny thing is she decided to wear yoga pants just in case they asked her to dance. Too cute! Promise we'll take loads of pictures and post them. I'm so happy for her. She is blessed and so are we.

Also, I was sent the latest Cure JM newsletter today and on it there was a great video for those just diagnosed. I recommend you watch it. I commend them for producing the video. I know I would of found it useful and comforting for us. Here it is....

Wednesday, November 3, 2010
Here's a picture of my sweet little bumble bee. I've also included a picture of she and her brother...he was Jigsaw from the movie saw. Ugh, I hate those movies. Enjoy!
Oh...and she is feeling better. Maybe just regular old aches and pains. Gosh, I hate my head goes straight to the worse scenerio. Thanks for the extra prayers.
Sunday, October 31, 2010
We had a great Halloween. The day began with a call from Trey. He shot his first deer!!! He was so excited. Later, we baked Halloween cookies, carved pumpkins, made cupcakes and got ready to go trick or treating. Pictures coming soon!

Now for the scary part...Madeline has complained that her knee, ankle and neck are hurting her. I'm trying not to freak out, but it's lingering in my mind. Her biggest complaint is her neck. Please pray for her and that this is just a freakish coincidence. We are so close to remission, we can't go backwards.

Positive thoughts...I'm trying. :(
Monday, October 25, 2010
It's hot here. Not unusual for Louisiana, but I'm tired of summer and really ready for some cool air so we can get in the mood for Thanksgiving...which is just around the corner. In fact, it was so hot yesterday my husband swam after mowing the yard. Really?!?!
But, there's hope fall is coming. One sure sign - the black eye'd susan's blooming everywhere. Madeline and I decided to do a mini photo shoot around these pretty, happy flowers. Thought I'd share her pretty picture. She is growing up so fast. My little girl too is blooming into a beautiful young lady.
Thursday, October 21, 2010
Here is a sneak peek of Madeline's new solo - Funky Jesus Music. It's fun and makes you want to dance. She's just learning the dance so this is a rough, learning clip of probably half the dance.

In the video is her teacher Colinda - one of the sweetest, talented people you could ever meet. Madeline loves her. But notice...Madeline is taller than Colinda now. She is getting very tall and very long legged. She's beautiful, but I guess I am partial. :)

Enjoy and more to come...

Tuesday, October 19, 2010
I've felt guilty for not updating Madeline's blog lately. But when you don't have much to talk about regarding her JDM (which is the purpose of this blog)I shouldn't feel guilty but relieved...which I am.

Madeline's life has been busy with school, cheerleading, dance and friends. She is working on her new solo for competition this year. I will attempt to post what she has learned so far, but it is no where near polished. She normally does a ballet style routine and this time we are pushing her in a jazz/hip hop direction. She is doing great.

So far no illnesses, no issues. All still good. Life is good.
Monday, October 4, 2010
Madeline is doing great. Seems to get stronger and more limber than ever. Between taking dance and cheering this year, she is handling the strenuous activities better than most kids.

We only have a few months to go back to Texas for her check up w/ Dr. W. Looks like she will get a clean bill of health. We are confident and optimistic.

Hope this gives hope to others...your children w/ JDM CAN get well.
Wednesday, September 15, 2010
My life has been somewhat of a whirlwind lately. We are busy at work in our strategic/budget planning process and my hours at work have been long lately. Therefore, the blog has been ignored lately.

Update on Madeline - her health is great...JDM all clear so far!!! Her spirits...she's on cloud 9 and here is why....

Earlier this year we recieved an email from someone who found her blog. This someone is an LSU Golden Girl Caroline Sexton. She mentioned she saw her blog and noticed that Madeline said she one day wanted to be an LSU Golden Girl. She also mentioned the Golden Girls would love to do something special for her. We were so excited, but didn't know if anything would come of it...well....it is...see the email we received last night.

Hi, Mrs. Charla,

I am so happy to let you know that my director Roy King and the Golden Girls would be glad and honored to have Madeline along with you and your husband be a part of the LSU Tiger Band for any Saturday football game! The director says that earlier is better and so here are some dates to choose from;

9/18 Mississippi State- kickoff is at 6
9/25 West Virginia- kickoff is at 7
10/2 Tennessee- kickoff is at 7
10/16 McNeese- kickoff is at 7

If Madeline is well after October 16th weekend we may be able to look into those games but these are the earliest that are coming up. As I am sure you know, there is always a possibility that kick off times could change. The day with Tiger Band and the Golden Girls would include; watching the practice in the Indoor Football Facility which is a two hour rehearsal but you can come whenever you wish if at all, following practice we will eat lunch as a team while we get ready and that is something you or Madeline could be a part of if you wanted (your husband would not be allowed to attend this of course!) or you three could get lunch somewhere on campus or at a tailgate if you have friends near by, then the entire band will meet at the top of the Greek Theatre for 'Step Off' at a certain time that YOU WILL BE INFORMED OF!.......... this is where you and your family will walk down the hill leading Tiger Band into the PMAC where you will sit in designated seats to watch the performance in there. Immediately after you all will lead the Band out again into the stadium where you will sit a few rows above the Golden Girls and Color Guard and in front of the Band.

Lanyards will be given to the three of you to wear throughout the day so that officers and other officials know that you have permission to be where you are. Anytime that you are walking (down the hill and into the stadium) or sitting (in PMAC and at the game) you will be accompanied by the staff of Tiger Band and others chosen to attend for that day.

I hope that all of this makes sense and I would be glad to talk to you about all of it in more detail if necessary. All that you need to do is pick a game and show up!

I cannot wait to meet you all and I hope this sounds like a good time to all of you!

GEAUX TIGERS

WOW!!! Yes, I cried and Madeline's face shined! What a wondeful gesture for our sweet little girl who has gone through a lot. And what a special person Miss Caroline Sexton must be. The title of Golden Girl is appropriate for someone so special, giving and kind. We can't wait to meet her and all the other Golden Girls. Geaux Tiger and Geaux Golden Girls!!!
Wednesday, September 1, 2010
Wow!!!!

Cure JM came in FIRST place in the Pepsi Refresh Grant promotion. This is INCREDIBLE. Talk about some persistent moms, dads, grandparents, friends, etc. It's hard to believe this big disease which effects a small amount of children won. This is AWESOME!!! Thank you, thank you, thank you to so many of you who told me you voted everyday. We appreciate it very much.

Congrats Cure JM. You deserved the $250K reward. Do good research with it and find a cure for juvenile dermatomyositis.
Sunday, August 29, 2010
My blog friend, Summer, is really having a tough time right now with her dermatomyositis. Please take a moment today to say a little prayer for her. She is a very uplifting, positive person who deserves a break with this flare. Please pray her medical team figures out the perfect cocktail for her to fight this disease.

Here's wishing and praying for you Summer. :)
Monday, August 23, 2010
Madeline had a great first day of 6th grade! I can't believe she is getting so big. I little baby girl will be in high school before I know it. Her brother, Trey, did start high school this year. And he loves it!
Wanted to post of picture of her first big day. Of course, Lulu had to get in the picture too.
Friday, August 20, 2010
Another parent with a JDM child had this posted on their blog today. I wanted to share it as well for it's a good reminder about the seriousness of this disease - this disease that our baby girl has fought herself. Here it goes...
Cole Flack of Oregon received his diagnosis of juvenile dermatomyositis in February 2007, roughly four-and-a-half years after Thing 1 received hers.
In the years that followed, this teenager with a love of sports and being outdoors became too weak to even walk. Cole endured multiple abdominal surgeries to deal with gastrointestinal issues caused by the disease and its medicinal treatments. Yet as recently as the fall, he still managed a full course load at school and compiled a 4.0 GPA.
Earlier this month, Cole went into the hospital with pneumonia.
Yesterday, we received this e-mail written by his parents:
"Hello friends and family,
Cole went to be with the Lord at 7 p.m. tonight. It was very peaceful. Cole is free now to run ... jump ... play baseball ... everything a 15 year old boy should be able to do. …"
Cole is the third child with a form of juvenile myositis that our family has come to know since Thing 1's diagnosis to die from this rare autoimmune disease or its complications.
Three.
When only three in a million children are diagnosed annually in the United States with this disease, that little number grows exponentially in your worried head every time your child coughs or sneezes or scraps a knee.
Please help prevent more deaths of children like Cole by continuing to vote every day this month to help Cure JM, the only national nonprofit dedicated to supporting children with juvenile myositis and their families, win a $250,000 Pepsi Refresh grant. Every penny of that grant is set to pay for research into finding the cause and cure of juvenile myositis, juvenile dermatomyositis and other forms of JM diseases.
Right now, we are No. 2 in the standings – we need to hold this position until Sept. 1 to win the grant money. The only way that can happen is with your help.
You can vote up to 3 TIMES, every day, during the month of August!
(1) Send a text vote: Text 100850 to Pepsi (73774) (standard text messaging rate apply)
(2) Use the Facebook app: http://bit.ly/CureJMonFB
(3) Vote directly from the Pepsi website site for our Cure JM and its affiliated causes at http://pep.si/CureJMKidstoWin4
Wednesday, August 18, 2010
I've attached a copy of the annual letter we give teachers at Madeline's school. I always give a copy to her teachers, school nurse, principal and PE teachers. Hope it helps you. Plagerism welcome! :)


Dear Sixth Grade Teachers:

I wanted this letter to serve as health notice regarding our daughter, Madeline Ducote. Madeline is currently battling a very rare disease called Juvenile Dermatomyositis, or as she calls it JDM. She was diagnosed on March 28, 2008 at 9 years of age.

JDM is a rare autoimmune disease which attacks children of all ages, causing them to suffer from weakened and painful muscles, skin rash that worsens with sun exposure, severe fatigue, digestive problems and a variety of other debilitating symptoms. This disease is very rare as it only affects between 3,000 to 5,000 children currently in the United States. As to date, we have only found one other person in the state of Louisiana battling this illness. Some children may experience a remission, while others will battle JDM their entire life. Madeline has recently completed a 26 month treatment. She is not classified in remission yet, but we are hopeful she will be soon. In June, her physician took her off all of her medications to test her body's response off all drugs. So far, she has done well.

Madeline's recent treatment involved taking Cyclosporine A (a medication normally used for transplant patients) and methotraxate (a chemotherapy drug). Combined with her medicine, it is absolutely necessary to keep her protected from the sun. JDM is peculiar in that although Madeline may look good now, having her in the sun unprotected can cause big problems. This is due to her disease, as well as the side effects of her medication.

My husband, Rick, and I request the following guidelines be followed concerning Madeline's activities while attending class at J.I. Barron Elementary:

1. Madeline is very sensitive to the sun as a result of her dermatomyositis/medications. As a general rule, it is important that she avoid unprotected sun exposure during the times of the day when the sun is at its peak (10:00AM – 4:00 PM). We are aware that Madeline can tolerate minimum sun exposure in the late fall and winter months with proper protection. It is imperative that Madeline wears sunscreen. She will always have sunblock with her and knows how and when she needs to protect herself. She may need to put on sunscreen before recess, and any time before she goes outdoors for long periods of time. Please allow her to go to the bathroom or hallway so she may apply the sun block in privacy. It is necessary to have her sunscreen applied to her face and all exposed areas. I will supply the sunscreen for her to keep in her backpack or your location of choice.
2. Madeline may participate in gym class; in fact exercise is very important for maintaining her muscle strength. My understanding is that from time to time gym class is conducted outdoors. In general, Madeline is permitted to participate in outdoor gym class, but must apply sunscreen prior to going outdoors. I will notify you on those days when Madeline is not feeling well to perform in gym class by sending a note. I do not anticipate this occurrence to happen often if any.
3. Madeline was taking methotrexate, which is an immunosuppressant medication that puts her at increased risk of infection. It is important that I am notified if there are serious infections in the school (i.e. staph, mononucleosis, flu, etc.). Also, she will need to wash her hands and desk more often and will carry hand sanitizer with her at all times. I will also purchase hand sanitizer for your classrooms if that will help you. I can not stress enough the importance of this. What can be a simple cold for you or me can become serious for Madeline. Also, we find it takes her a lot longer to get well.
4. Madeline must visit various physicians throughout the school year which are located in Texas at Texas Children's Hospital. She may tend to be ill more often. These events will require that she is absent, late or dismissed early. I will keep in touch with you when these events occur in order to coordinate her schoolwork.

Juvenile Dermatomyositis can be a physical illness but does not impact Madeline's ability to think, feel and participate. You will find that Madeline is like any other child her age in all other respects. She is competitive, somewhat of an over-achiever, a dreamer and a very well-rounded little girl. I am very interested in her mental health as it relates to her disease and ask that you inform me should you detect any concerns in her emotional well being. I value your expertise and welcome your assistance should a concern arise.

One way you can learn more about Madeline's experiences with this very rare disease is by visiting her blog at www.madelinesjdmstory.blogspot.com. She loves to tell you about her pen pals literally from around the world, in which, she has made from this site. Plus, it will help give you an idea of the path we have taken in these past two years.

Thank you so much for taking the time to attend to this matter. I look forward to the new school year, as does Madeline, and developing a new partnership with each of you.

Sincerely,
Monday, August 16, 2010
We had nine little girls at our house yesterday celebrating the end of a great summer and the beginning of their sixth grade school year. Madeline has had a back 2 school pool party every year since third grade. Fun!
The first day of school is Wednesday. I've taken off for a few days to finalize any last minute things and to attend open houses. Also, today is my birthday...so I'm celebrating that as well!
Here are some pics of Madeline's friends having a blast yesterday. Oh to be so young!
Tuesday, August 10, 2010
We've been BUSY!!!

This past weekend we squeezed in a last minute weekend getaway before school started. We rented a house in Natchitoches on Cane River. For you Steel Magnolia fans...this is the location where the movie was filmed and based. Great town...happens to also be the place I met my husband. So also a very special town to us. We had a great time.

Now we have only 7 days until school starts. This summer has gone too fast. We will have a few shopping trips to make, but we are pretty much ready to go.

I need to begin to work on my back to school letter I give to each teacher regarding Madeline and her disease. I always post the letter online so if anyone wants to "borrow" my words and make it your own, have at it. The letter will be different this year since she is doing so great. But, I will still educate them on her disease and explain her absence for doctor appt., etc.

Madeline still has a lingering cough. I decided if by tomorrow she doesn't stop, we are going to see the doctor. We need to begin the school year happy and healthy.

My baby girl is going to be a 6th grader. She is really going to be a 6th grader. Where has the time gone? I don't know, but I know it's going way too fast.
Monday, August 2, 2010
Madeline and I had a blast last night at the Justin Beiber Concert. It was so much fun and a great event for her first concert experience. She danced, screamed, clapped, jumped...well you get the idea. I did the same! I've attached some pictures. Again, thank you to our "special angel". You made her the happiest 11 year old girl!!!
Thursday, July 29, 2010
hey its Madeline now here's my mom

Okay, guess she wanted to make her presence known. Any hoo....Madeline and Trey both have terrible colds and coughs. Madeline began with the coughing several days ago. Looks like she shared her germs with her brother. He is running a low grade fever too.

But....the real FEVER around our house is the BEIBER FEVER!!! Yes, Madeline was surprised by a special "ANGEL" today with two tickets to the Justin Beiber Concert this Sunday in Lafayette. This is Madeline's first concert. She was so excited when I broke the news to her today after dance. I still don't know if it has sunk in quite yet. She can't believe it!!!!

A special, special thank you to our Angel who I know reads this blog on a regular basis. We love you and appreciate your generosity. Madeline will NEVER forget this special event - her first concert with the HOT, HOT, HOT Justin Beiber. :)
Thursday, July 22, 2010
I never posted a few pics from our Florida vacation. Thought I'd share. Two months down with no meds, no issues, no JDM!!!


Wednesday, July 14, 2010
I've attached pictures of the mysterious bumps on Madeline. The good news...they are getting better. The one on her face is the slowest to heal. I'm sure she's messing with it, which I keep telling her to stop doing.
Thanks for the feedback and suggestions. I appreciate it!!! Thank goodness this turned out to be uneventful.
Monday, July 12, 2010
Madeline has boil like bumps on her legs. I'm doctoring them closely with the hopes this is not staph. It started out with three on her thigh, but has now increased to around 10 - 12 on both legs. Plus, she has one on her face that I'm not sure if it's a "pre-teen pimple" or the same boil like bump on her legs. As Madeline said last night, "Mom, neosporin and I are getting really close - we're like peas and carrots". Gotta love humor combined with a little Forrest Gump.

I'll take a picture tonight and post. Any insight appreciated.
Wednesday, July 7, 2010
I accidentally came across this spot by a google alert I was sent. I watched this video and others about this sweet, beautiful girl Andie. I couldn't help but look at her eyes and see Madeline two years ago. Andie has that same look around her eyes Madeline stayed with constantly, that look of darkness, redness, sickness.
Andie has JDM and is currently in a coma. Please pray for her and all of our babies who are our miracles fighting this terrible disease.
Get Well, Andie.
http://www.youtube.com/watch?v=Ge60GEPyFBM&feature=player_embedded
Tuesday, June 29, 2010
I know, I've not posted in a while. But, I have good reason - VACATION!!! We just got back from Florida....and yes, there was oil. But luckily not the entire time. The first half of the vacation the water was perfect, then, mid-way, the oil blew in with the bad weather. It was terrible.
Besides attaching a yuck picture of the oil, I'm also including a pic of Madeline. I know, she is beautiful!So was the beach and water, at first. :)
Wednesday, June 16, 2010
Everyone's a star and deserves the right to twinkle. - Marilyn Monroe

Madeline is still doing great. As we laid in bed last night watching The Incredibles, I asked her how she was feeling since stopping her meds. She stated, "Wonderful! I feel better than ever. That medicine made me feel sick. Now I don't feel sick anymore." That was music to my ears.

Madeline loves Marilyn Monroe - I guess because she is pretty, wears shiny things and a lot of make-up. I came across this quote the other day and couldn't help but think about Madeline. And how appropriate to share on the blog since Madeline and her brother are recently starring in a news spot for our local television station. Check it out. You'll see Madeline for she is the swimming girl and the trampoline jumper. Her brother Trey is cleaning the pool (which by the way he never really does) and in the fishing scene.

My two little stars...just a twinkling.

Friday, June 11, 2010
Madeline had to take a picture yesterday of her first sunflower she grew in her flower garden. She is so proud.
We are on week two with no meds and she is doing great. I don't know what to expect, but I can't stop worrying about the what ifs.
Monday, June 7, 2010
It's now day four with Madeline taking her medications for strep throat and tonsillitis. The drugs are working well. Literally, on day two her throat stopped hurting. She's back to normal, but still has to complete six more days on antibiotics.

We are still watching the oil situation in the gulf. We still plan to go to Florida even though tar balls have been spotted on the beaches. Around here, that's were everyone goes on vacation. But, so far, no one has told me anything too scary regarding the beach, smell or dead sea life on the Florida shores. Now here at home(Lousiana) that's a different story...and a sad one too.

Well, Sunday passed and went and no medications had to be taken for her JDM. Weird! But oh so nice!!!
Thursday, June 3, 2010
First, the good news. Madeline's doctor appointment in Texas with Dr. W was great. All of her tests were perfect. She's strong as an ox. Her bloodwork was once again perfect. Dr. W was so pleased with Madeline's condition, he officially has taken her off all of her medications. Can you give me a woo hoo!!!!

We were so excited when he told her this fabulous news. It actually for once feels real. I see she is perfect, the tests tell us she is and the doctor has blessed it. Thank you God! We all hugged and teared up a little. After 791 days of taking medication to fight her JDM...we are done! Really, really done.

Now, the bad news. Madeline always wants to go to Olive Garden after her appointments. It's a tradition we do each time now. After being seated at our table and deciding what we would eat, Madeline stated she didn't feel well. She thought she was going to vomit. I wasn't real alarmed because this happens sometimes after taking her methotraxate. I thought once she ate she would feel better. After the food came, Madeline excused herself. After a few minutes, I went to check on her and the poor thing had vomited everywhere in the bathroom. The sweet employees were helping her. We left soon after and she slept our long drive home.

Later that evening, Madeline said she was freezing...um, the fever alert went off in my head. We took her temp and it was 102.9. Wow! And it only got higher as the night went on. But, she had no symptoms except for her vomiting (once). I felt it must be viral and the next 24 hours would be telling. Wednesday, her fever was still there and later in the day...her throat began to hurt. Aw, now we know the problem. We called the doctor, but could not get in until today.

Long story short, we saw our ENT this morning. The verdict...tonsillitis and strep throat. Really!?!? Wow...cher bebe. She is a sick little girl. So what happens now? We get off her JDM meds to only have three new medications to take. "That's rather ironic," said Madeline. Yes it is.

But, we are on the path to remission. We have a lot to celebrate and be thankful for. We do not have to go back to see Dr. W for six months...that's December 7. Of course, if anything changes we must call him immediatly. But my gut says it's going to be alright.

189 days until we see Dr. W again. That's 189 days until we can say Madeline is in complelty, absolutely, 100% in remission.
Monday, May 31, 2010
We leave bright and early tomorrow for Madeline's check up with her pediatric rheumatologist, better known on this blog as Dr. W. Madeline's excited to go because she believes he is going to take her off all of her meds. We shall see. I will post our checkup update as soon as I can. It probably will be Wednesday though.

We had a great Memorial Day. We celebrated this important holiday with family and food, of course. It was a beautiful day and a fabulous, long weekend. I think we actually swam for 10 hours today...no joke. We will all sleep well tonight.
Friday, May 28, 2010
Madeline danced in four dance recitals last Saturday. Talk about a long day!!! She was wonderful. She always makes me so proud. I am so happy and blessed that she can still do what she loves the most - dance! Thank God her medications are working for her and JDM has not taken her love away.

I thought you'd like to see some the pictures. She is beautiful.

Tuesday, May 25, 2010
Madeline came to work with me today. She needed to have her blood drawn for our upcoming doctor appointment w/ Dr. W in Texas. She was a trooper...a real pro. I snapped a picture of her all smiles. Brave girl!
Monday, May 17, 2010
Today was Madeline's last day of school. She made us proud, of course, at her awards program. She was recognized for her grades and Beta. She had such a great year. Congrats, baby girl!!!
I can't believe she is now officially a sixth grade student. My how time is flying. It REALLY needs to slow down. Luckily, we have a beautiful, smart, talented little girl who knows and understands how important it is to give your best always. thanks, Madeline. You make us proud every day.
Now, on to summer fun!!!
Thursday, May 13, 2010
We have several magnolia trees in our yard and they are blooming beautifully this year. The smell is intoxicating. Love it!
Only two full days of school left in our parish. I can't believe Madeline will be in the sixth grade and her brother the ninth. Time is going too fast.
Speaking of time going fast, we will head to Texas in a few weeks for Madeline's check up. And we all know what that means...we need to go have her bloodwork done again.
Thursday, May 6, 2010
This would be the nail that Madeline stepped on this week. Her daddy had to pull it out of her foot. Better him than me! It's healing well, but now she has a chest cold. We just can't seem to keep her well lately. Her JDM is still staying in line though, thank goodness.
Our other bad news...the oil spill. Besides the souls lost from the accident, the beaches, marshes, etc. are begining to be invaded by the oil. We are hearing the smell is punjent and making many ill. We had planned to go to the beach in June. We'll have to cancel and figure out somewhere else to go. So sad!
Tuesday, April 20, 2010
I've been so busy with work and end of the school year events that I totally forgot to put in Madeline's last doctor appointment information. I guess better late than never...

March 2 Dr. Appt.:
Height - 62 1/2" - Wow! She's only half an inch shorter than me!!!
Weight - 106.5
BP - 100/55
HR - 83
Temp - 98.2
RR - 16

Her methotraxate was cut in half - only 5mg once a week (2 pills). And we return in June.

She is growing like a weed. In fact, she's cathching up to her brother who is now 14. I am sure I will be the shortest one in the family by the end of the summer. How strange.
Tuesday, April 13, 2010
Yup...stomach virus. I picked up Madeline from school this morning after they called to let me know she was crying with a headache. Headaches are not common for Madeline, so I knew something was wrong. And yes it was...the moment we got home...she regurgitated bunches. Yuck! Poor thing.

We've been lucky this year with the illnesses. Only the swine flu and now this stomach bug for the school year. Swine flu at the beginning of the year and this one to finish off the school year (We only have five weeks of school left - hard to believe!).

Madeline attended the Beta Convention Saturday (along with around eight other parish schools; which is probably around 800 honor students total). So, I am sure there were plenty of nasty germs to be shared with that many young ones.

Hopefully she will got over the yucks quickly. Meanwhile, her Dad and I will share our time home with her. Not a bad job at all!
Wednesday, April 7, 2010
We had a great Easter break. But, of course, it went too fast.
One thing exciting besides the Easter bunny was we surprised the kids with a long weekend trip to Hot Springs, Arkansas. We've never done this before and the look on their faces was priceless. We had a great time horseback riding, hiking, touring the old bath houses and swimming. We even dug for diamonds at the nations only diamond mine. It was a lot of work though. After an hour, Madeline and I told the boys we'd rather hunt for diamonds at the jewelry store so we left soon after. Ha!
Madeline got a little red on her face, but it must of been just from the sun. It was rather hot hitting the mid-80s each day there. I can't help but worry though. I guess I'll do that forever.
Sunday, March 28, 2010
It's been two years.

Madeline was diagnosed w/ juvenile dermatomyositis (which took me almost 30 days to learn how to say)two years ago on this day, March 28, 2008. She was nine years old.

Madeline's March 28, 2008 story can be found on a earlier blog, but I want to talk about Madeline's JDM story today. Madeline's JDM Story is a success story. She is doing wonderful. She only takes two methotrataxate pills once a week and lives life absolutely normal. The weather is warming up so that does mean the sunblock with be applied soon - why take any chances? She dances for 3 - 6 hours per week, runs in PE weekly, plays like a normal 11 year old and is beginning to become (if you know what I mean) a pre-teen. She's growing at a normal rate and an honor roll student. She's smart, funny, beautiful, well perfect. Her only problem...she still has JDM.

We are on the road to remission as long as all continues down the path we are anticipating. We all can't wait for this day.

I'm not in my doom and gloom mood any longer, which you'd identify quickly if you read any of my earlier post. I am now optimistic for Madeline's future. I think she will grow into a normal, healthy teen, then adult. My only concern is when she tries to become a mother - will she have issues, will it come back? But that's a long time away and out of my control.

Today, I am thankful and hopeful. I believe Madeline knew exactly when she'd go into remission - which she told me at the age of 8 her JDM would be gone when she was 12. She is right on this path and I can't wait for her to reach the goal.

And for any of your mommas and daddys who are scared, stressed, angry and confused as to why this had to happen to your baby, be confident to know there are success stories with this disease. And my baby girl's JDM Story is one I believe is going to have a happy ending.

Two years down...a lifetime to go!

I love you Madeline...more than you will ever know.
Monday, March 22, 2010
Video 3
Madeline competed this weekend with her dance team (jazz & tap) and as a solo dancer (lyrical ballet). She did an awesome job and of course we are so proud of her. I can not imagine being 11 years old and being brave enough to get on stage in front of hundreds of people to dance. She won a gold, which is AWESOME!!!
She was upset because the stage was very slippery which made her nervous on her leaps, but she still did great! Again, did I tell you we are so PROUD!!!
I've attached the video of her solo. The music is beautiful and appropriate considering at one point we didn't even know if she would be able to dance due to her JDM. But thank God, she can dance!
Monday, March 8, 2010
Sorry for not updating sooner on Madeline's doctor visit. After being away from work to go to Texas, I came back to a very overwhelming rest of the week. But who wants to hear about that...let's hear the good stuff...Madeline's update.

We had a great trip to Texas. Traffic was not bad at all and the weather, for once, was clear. We arrived to the doctor's office and didn't even wait five minutes. Madeline was escorted back where we do the normal height, weight, etc. I don't have those stats with me today, but will update them soon. Needless to say, the girl has grown tremendously. All of her vitals were picture perfect as well as her blood work results.

We didn't wait for Dr. W for long at all. He came in, did his questioning w/ Madeline, examined her hands, nail folds, face, wrists, knees, elbows...well you get the idea. He conducted his strength tests (which she passed with flying colors)and asked us some additional general health questions. We then made Dr. W aware of the knot on the top of her foot. He examined and said he believes it is a cyst. He said it moves and is attached to her ligament. Therefore...no calcinosis. Cool! He said if it continues to bother her to see another physician.

The grand finale...he decreased her methotraxate in half!!! Now, she only has to take two pills (5 mg.) once a week. He also said if she continues along this path...looks like all meds could be gone very soon! Of course, he kept saying we have to continue to pray things stay this course. We can surely do that.

We were so excited. I mentioned to Dr. W how wonderful this is and how fast she'd gotten to this point. I was wondering if this was normal...to get to this point so fast. He quickly reminded me that this has not been fast - it's been TWO YEARS!!! How in the world did I forget that!

At the age of 8, when Madeline had her first signs of the disease to the age of 9 when she was first diagnosed, she'd always tell me she'd be okay when she was 12. She said this with such confidence and belief. Well baby, you're guardian angel must of been telling you this and I do believe you and they were right.
Monday, March 1, 2010
We are heading to Texas tomorrow for our check-up w/ Dr. W. This is the check-up following our cyclosporine divorce. Madeline is doing very good. Now, we will see if the methotraxate gets to be decreased.

One item we need to discuss w/ Dr. W is a pain Madeline is having in her foot. She has a knot on top of her foot that hurts her. The pain comes and goes. Of course, me being type A personality, I automatically worried it was calcinosis. It's probably nothing, but worth given some attention to tomorrow.

I'm waiting for her blood work to be faxed to me today. I had to go out of town for business Friday so her Daddy brought her to the hospital. Of course, she did great. Daddy did too! :)

I will post our Dr. appointment results ASAP. Wish us luck!!!
Tuesday, February 23, 2010
Madeline is staying well and feeling great. We go to Texas next week for her routine check-up. This will be the three month mark after stopping her cyclosporine. So far, she is still doing great. She still has her once a week methotraxate dose, but I am wondering if he will decrease this drug as well since she is responding so positively without her cyclosporine. Maybe I am getting a little ahead of myself. We shall see.

We will go by week end to have blood drawn again. We need to make sure he has all the information he needs since we only see him quarterly now. Not bad, not bad at all!!!
Monday, February 15, 2010
Okay - don't kill the messanger...saw this interesting article on stem cell transplantation with good outcomes. I'm not pushing for or against stem cell research, just sharing interesting facts on JDM research. :)

Successful autologous stem cell transplantation in two patients with juvenile dermatomyositis.
Posted on February 08th, 2010 in Stem Cell Therapy, Stem Cells
We report on two patients with severe progressive JDM who developed contractures and were wheelchair dependent despite therapy including methotrexate (MTX), steroids, immunoglobulins, cyclosporin A, and rituximab. On account of the refractory disease, autologous stem cell transplantation (ASCT) was performed using a CD3/CD19-depleted graft after immunoablative conditioning with fludarabine, cyclophosphamide, and anti-thymocyte globulin. This induced a dramatic improvement and sustained remission of the disease in both patients. We demonstrate that ASCT is a therapeutic option with low toxicity for patients with severe, refractory JDM.
PMID: 20132077 [PubMed - in process] (Source: Scandinavian Journal of Rheumatology)
Tuesday, February 9, 2010
That would mean..."Pigs have Flown"!!!! That's right...the NOLA Saints are Super Bowl Champs. I NEVER thought this day would ever happen. We are still on a high and it's going to last a few weeks. We are waking up each day asking if this is for real or a dream. Incredible!!!
I've included a few pics from our Who Dat Celebration. We went to my parents house where the party was lively and the food was great. We all screamed, jumped, cried, leap, ran around the house, etc. Fireworks were going off every where as well as a few rifles and shotguns...we are in Louisiana. HA! Strangers were hugging and horns were honking. It was a once in a lifetime experience I will forever remember.
I am so happy for our state...we needed this.
Saturday, February 6, 2010
So far, what a great year 2010 has been.We are still on a high that our beloved boys are playing in the Super Bowl. I've watched more SportCenter and ESPN programs than I ever have in my life. I think my husband loves this! Between work, church, town, state everyone can't stop talking about our Saints in the Super Bowl. As so many say around here...hell is freezing!

Other great 2010 news...and most importantly...Madeline is doing wonderful. We go to Texas for a check up in less than 30 days and I anticipate all to be good results. She has now been off the cyclosporine for over two months and we've seen no diverse reaction. Thank you!!!

All is good in the Who Dat Nation! Geaux Saints!!!
Thursday, January 28, 2010
Mortality rates for pediatric rheumatology patients significantly lower
Largest US study to date finds mortality outcomes improving

A recent study by researchers from the Cleveland Clinic found that the overall mortality rate in the U.S. for all pediatric patients with rheumatic diseases was not worse than the age and sex-adjusted population.

Furthermore, mortality rates were significantly lower than reported in previous studies of rheumatic diseases and conditions that are associated with increased mortality. Details of the study appear in the February issue of Arthritis & Rheumatism, a journal published by Wiley-Blackwell on behalf of the American College of Rheumatology.

The Childhood Arthritis and Rheumatology Research Alliance (CARRA) estimates that 300,000 children in the U.S. suffer from some form of arthritis or rheumatic disease. According to CARRA, childhood arthritis is the #1 cause of acquired disability in children and is the 6th most common chronic childhood disease.

While rheumatic diseases present well-known risks to health, function, and quality of life, several conditions—juvenile rheumatoid arthritis, childhood systemic lupus erythematosus, dermatomyositis, various vasculitides, and systemic sclerosis are associated in various studies with a small but significant increase in mortality.

The Cleveland Clinic study team, however, maintains that previous mortality studies were relatively small, reported mortality outcomes only on specific diseases, had a follow up time of less than 10 years, and were mostly conducted prior to the 1990s, when new and improved drug treatments emerged. The team suggests that larger studies may also be flawed because most were based on physician surveys, without strategies to verify response.

To determine the mortality rates, risks, and causes of death associated with pediatric rheumatic diseases in the U.S., the researchers examined the world's largest rheumatology registry, the Pediatric Rheumatology Disease Registry (PRDR), which includes 49,023 patients from 62 centers who were newly diagnosed between 1992 and 2001. Identifiers were matched with the Social Security Death Index censored for March 2005. Death certificates, referring physicians, and medical records confirmed deaths. Causes of death were derived by chart review or from the death certificate.

After excluding patients with malignancy, 110 deaths were identified among 48,885 patients in the PRDR registry. This number was significantly lower than the expected mortality from the age- and sex-adjusted U.S. population especially among 18,111 patients who were followed up for at least 9 years. The standardized mortality ratio was notably greater for systemic lupus erythematosus and dermatomyositis but not for systemic juvenile rheumatoid arthritis and was markedly less for pain syndromes. Most of the deceased with inflammatory disease died of their disease or disease complications, while many of the deceased with pain syndromes died of non-natural causes.

"One possible cause of the increased survival in the present study compared with previous studies may be the improved treatment that was introduced in the 1990s, said the lead author of the study Philip Hashkes, M.D., M.Sc. "Since the information in the PRDR was limited, we could not explore in depth for risk factors or early predictors of mortality. This and continued follow-up of this cohort for mortality trends should be investigated in future studies."

source: eurekalert
Monday, January 25, 2010
I feel like I am dreaming....Saints to the SuperBowl!!! I do believe in the "Who Dat Nation"!!! Somebody pinch me!!!!

If you want to see the "spirit" of our state and how much it means to all...check out this video. I confess, we were all holding hands together in our living room and begging, pleading for the kick to be good. We all starting jumping, dancing, high-five'in...I cried!!!

http://blog.nola.com/twobitbeat/2010/01/like_mardi_gras_on_red_bull_th.html
Friday, January 22, 2010
Madeline won 2nd place for her lyrical ballet solo in Baton Rouge this weekend. How proud we are of her. As for her team dances - they won 2nd place in jazz and tap. We are so proud. And doesn't she look beautiful.
Now if I can only figure out how to post the actual dance on this site!!!
Slumber party tonight - I have 8 little 10 and 11 year olds coming over...it's going to be loud and fun!!!! Pics soon!!!
Friday, January 15, 2010
We leave for Baton Rouge today for Madeline's dance team's competition. This is her first year to compete with a solo...how exciting. She is doing lyrical ballet for her solo and then tap and jazz for team. Wish us luck!!!
Tuesday, January 12, 2010
Yes, it's Princess Madeline's birthday. She is officially 11 years old. She's now 5' 1" tall and wearing a size 8 shoe. She's only two inches away from me! Wow...why do they have to grow up?
Like each year, I brought cupcakes for her class. Everyone sang happy birthday to her and she blushed, of course. This evening Madeline wanted to go out to eat at Texas Roadhouse. We surprised her with a Lulu (her toy poodle) cake. The staff came out screaming and yelling to everyone in the restaurant that it was Madeline's birthday. Then, everyone sang happy birthday to her. She cried. I didn't expect that. I then cried. My sweet, sweet girl. We surprised, no shocked her. But she loved it.
Each birthday I can't help but recall the first time I googled Madeline's disease. The first site I found was on a child with JDM being granted their "Make a Wish" gift. Of course, I was devastated and determined this was not our course (I'm somewhat of a control freak). Now, I am very optimistic and I KNOW she is going to be in remission one day soon. She WILL have a full life and achieve each and every dream she can
fathom
. And most of all...I know this little girl is going to be stronger due to this illness.
Today was a beautiful, crisp day....just like the day she was born 11 years ago. Today I celebrate the birth of my beautiful baby girl. But now, I also celebrate her life and the wonderful, happy, beautiful things that are to come to her in the future.
Happy Birthday, Madeline. Your daddy and I love you more than you'd ever know. We are so proud of you and honored God gave you to us to take care of forever and ever.
Sunday, January 10, 2010
We've had very unusual weather in our neck of the woods lately. It was in the 20s today and that doesn't happen here often. What is going on? We live in the south for a reason...mild winters, hot summers!!! I am so ready for a 100 degree heat index.
Madeline has earned herself a trip to the doctor. She has really looked tired and not herself lately. She told me today her throat hurt and that it felt tight. I took a peek in and let me just say if I was her I would be whining a lot more. It looks terrible. Keep your fingers crossed that it's something simple and a good old round of antibiotics will take care of.
It's
methotraxate
night. We've moved her once a week dose to Sunday nights now. Nothing like starting off the week with a little chemotherapy. :)
Friday, January 8, 2010
Any time I hear great news of JDM research...I love to share. This is not only good news for JDM patients, but potential all autoimmune patients. I don't know you...but great job, Dr. Reed! And thank you for your work!!!
01.8.2010
Mayo Clinic provides new strategy for designing better treatments for juvenile dermatomyositis
Mayo Clinic researchers, working with colleagues at the University of Minnesota and University of Pittsburgh, are the in the first place to style a new role for a specialized apartment of the immune system in children suffering from a rare muscle-damaging disease known as juvenile dermatomyositis (JDM).
The specialized cells, called dendritic cells, have never before been found inside muscle tissue of JDM patients — a discovery that suggests they are tightly linked to initiation of the disease process. The finding opens new possibilities for designing better treatments for JDM, and possibly for other related diseases such as multiple sclerosis, rheumatoid arthritis and lupus.
The Mayo Clinic-led research team report will be presented Nov. 14 as part of the American College of Rheumatology's annual meeting in San Diego, Calif., held Nov. 12-17.
Mayo Clinic researchers compared samples of muscle tissue from children with JDM to children with other disorders. Their findings are important not only for determining what causes JDM and designing new treatments for it, but for understanding an entire class of diseases in which the body's immune system gets mixed up and attacks "self" as if it were a foreigner, or "nonself." These are known as autoimmune diseases, and there are about 80 distinct autoimmune disorders. As a group, they are relatively common and include rheumatoid arthritis, lupus and multiple sclerosis. Autoimmune disorders share the general trait of the body failing to recognize itself, and erroneously mounting an immune attack that destroys function. Insights gained in JDM may possibly be applied to other autoimmune diseases.
Explains Ann Reed, M.D., Mayo Clinic pediatric rheumatologist/immunologist who led the investigation: "Under the microscope, it looked so dramatic to see the dendritic cells maturing in the muscle tissue and then migrating out into the bloodstream — and to realize it was a process which no one has ever documented before. And it was a surprise. Usually few dendritic cells reside in muscle as immature cells; they sort of hang out in case they're needed in an immune response. But, we determined that they are actually maturing in the muscle tissues in response to something in the muscle tissue itself."
This finding is important because a central question in JDM research has always been: Do the dendritic cells get activated in muscle tissue? Or, do they get activated outside of the tissue? The research by Mayo Clinic and collaborators provides the first proof that the dendritic cells get activated inside muscle tissues and then may move out into the bloodstream. Says Dr. Reed: "When you think about it as a clinician, it's really exciting because it shows what is happening in the muscle that starts the disease — and holds out the possibility that it is maybe something that we can turn off in new treatments we develop by targeting the mechanism in the muscle tissue. And that's really neat stuff for our patients."
JDM is a rare (5 in 1 million children) autoimmune disorder of young children characterized by inflammation of the blood vessels under the muscle and skin. This results in muscle damage, as well as in tissue changes of skin over the eyelids, finger joints and knuckles. Symptoms appear gradually and include: muscle pain and tenderness; difficulty swallowing, which results in weight loss; irritability; fatigue; fever; and rash around the eyelids, finger joints, knuckles, elbows, ankles or knees.
Diagnosis may involve the following: blood tests to detect muscle enzymes and markers of inflammation; an electromyography (EMG) to assess nerve or muscle damage; muscle biopsy for examination; X-rays; and MRI. While there is no cure for JDM, there are treatment options. They include medications to reduce inflammation and skin rashes; physical and occupational therapy to improve muscle function; and nutritional support. Children with JDM may suffer organ failure in the same way transplant patients often do when their bodies fail to accept donated organs in graft-versus-host disease.
http://www.mayoclinic.org
Monday, January 4, 2010
I just picked up
Madeline's
blood work results and they all look great. Here they are:
SGOT
(
AST
) 25 (0-31, normal range)
SGPT
(ALT) - 21 (0-31, normal range)
CPK
(CK) - 98 (24-170, normal range)
LDH
- 187 (120-300, normal range)
Aldolase
- 6.3 (3.3-9.7, normal range)
Woo-
Hoo
! Love it. What a great way to kick-off 2010!!!