Sunday, December 12, 2010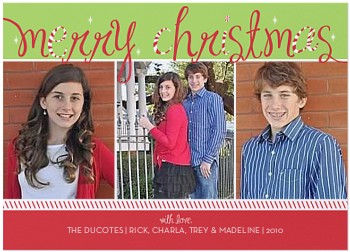 Peppermint Bliss Christmas Card

Friday, December 10, 2010
We went to Texas Tuesday and did our routine doctor visit w/ Dr. W. After his evaluation, questions, etc. Dr. W sat down and said, "well Madeline, I guess this is going to be the last time for me to ever see you". Madeline looked at him so strangely and said, "why?". Dr. W said, "well, there's good doctors where you live and you don't need me anymore because you are in COMPLETE REMISSION!!!". Rick and I immediately began to cry...with joy.
He then asked Madeline if she had any questions. She said no, but then quickly said she did have one..."will I ever get this disease again?". He sat there for a while to appropriately craft his words and then told her he did not want her to worry about that. She needs to go on with her life not expecting to get sick w/ JDM again. Plus, the kids who reacted well to the medication like she did usually never get JDM again. This was music to her and our ears.
We heard exactly what we've been waiting for for almost three years now - those beautiful words Madeline is in REMISSION. Funny how a little sadness came to us to think we'll never see Dr. W and his nurse again (or hopefully not in a medical setting). We gave our hugs and took some pictures to remember our friends who helped heal our baby. Here's Dr. W and Madeline. I think you can see he actually broke a little smile for the camera too.
Thank you to all of you for your kind words, prayers, encouragment, and patience with us during this journey. We are so happy this chapter of our life is complete and look forward to Madeline doing great things with her life. We are so lucky God chose Rick and I to be the parents of this beautiful little girl. She has taught us so much through this process and because of it we do not take for granted each day, hour, or second we have with our loved ones.
There are blessing with an illness, believe it or not. Of course, I wish this illness would had been mine and not my eight year old daughter's. But, it wasn't. This journey has taught me I AM NOT IN CONTROL! It's also put life into perspective for me. It's reminded me to not worry about the little stuff so much. Also, it's reminded me to suck up every morsal of memories I can and appreciate those special times for they go too fast.
Like a good friend of mine who is batteling cancer told me - "Enjoy the little things, for now you'll realize they really are the big things".
I love you Madeline. You make me proud every day. From here on, I only wish you health and happiness and for ALL of your dreams to come true. And I and your daddy will always be right there cheering you on!
Monday, December 6, 2010
We are heading to Texas in the morning for Madeline's check-up. We truly anticipate the Big R announcement - Complete REMISSION!!! Just so happens, yesterday at the end of mass Father mentioned we'd do a congregation Anointing of the Sick. Weird how things happen like that. What perfect timing!

Madeline is excited about her appointment as well. I think she (as well as we) are ready to close this chapter and move on to happier, healthier days.
Friday, December 3, 2010
Madeline's article was picked up by the AP and it ran in our local paper as well as as far as Connecticut. Wow! I wanted to post the link to keep it in our blog history.
http://www.thetowntalk.com/article/20101129/NEWS01/11290323/Pineville-girl-achieves-dream-to-dance-with-LSU-Golden-Girls
It's amazing how this article has affected so many. We've had such kind note from people all around the south. Plus, so many of our friends had no idea Madeline was even sick. I found that most interesting for we didn't keep it mum initially, I guess there's just no class on how to discuss your child's illness when you really don't want to talk about it.